Log house from cedar: price, features and benefits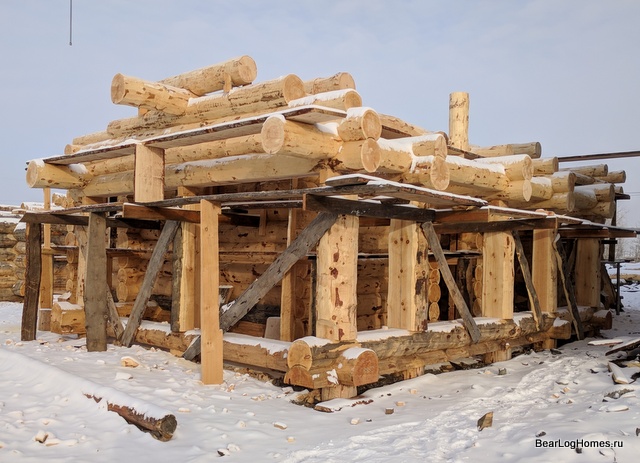 One of the best options for equipping a comfortable private or public bathhouse with any type of steam room is to buy a log cabin from a large diameter cedar. We offer ready-made projects that have proved their energy efficiency in the climate of Siberia. We also develop individual projects, we adapt the ready design to your requirements.
Price of a log house from cedar slightly higher than in the construction of other types of wood. This is due to the fact that the cedar harvesting is possible only in the sanitary felling areas. The atmosphere in the steam room on the basis of cedar log house is special and not comparable with the conditions in buildings from other types of wood. Especially if the traditional Russian bath "on white" is arranged.
Bath of Siberian cedar - decoration of any land. Aesthetic appearance and the possibility of realization of log buildings of complex planning (including those with an attic floor in the form of a half-timbered house) make it possible to organically inscribe a bath from a cedar log into virtually any landscape.
Benefits of cooperation with the company "Bear Log"
The most profitable option of cooperation is the order of a cedar bath under the key. In this case, we hand over the object ready for use, and you do not need to involve subcontractors for finishing and other works.
We cut the baths of any size: from miniature to dacha or dense urban development to spacious ones, in which friends are not ashamed to call. In work strictly follow the project. Each log is selected so that it fits perfectly into the masonry.
Our exclusive - baths of cedar large diameter. Logs made of logs thick 60 and more centimeters and looks impressive, and durable, and the heat keeps perfectly.
If you are going to buy a bath of cedar, it is not superfluous to tell about our prices:
project cost. We discuss individually, usually the project is from 500 to 200 p0ub / m2. depending on the number of sections in the project. But the plan for deconstruction is done free of charge. We do not feel sorry for good people;
the price of the log and its processing. It follows from the features of the project. The houses and baths of our skilled craftsmen are being chopped up. Can both in the paw and in the bowl. And as we have accepted, and how neighbors do, and even under Canadians can;
while the loggers cut the logs and collect a bath in Sayanogorsk, on site, our team can build a foundation. After the bathhouse your quality control will pass, we reassemble it on the spot;
but there is already a case for small. We put the roof, engineer communications, let's make beauty in the interior, we arrange the sauna or sauna and invite the newly-minted owner to check the steam room first.
Order a bath from the Siberian cedar log house through our website, or by phone + 7 (902) 99-66-727. Is there a ready-made project - do you want the estimate to be calculated? Please send us: This e-mail address is protected from spam bots. You need JavaScript enabled to view..