Ready-made designs of houses from cedar of manual cutting: the benefits of the order of the house of the company "Medvezhiy log"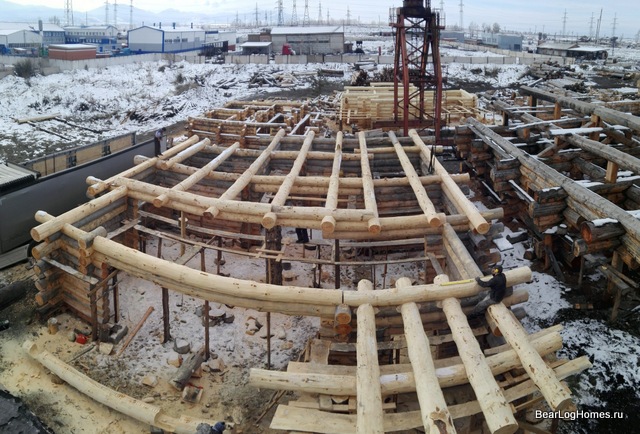 In Russia, the construction of wooden houses from the cedar of manual cutting has rich centuries-old traditions. The harsh climate made it possible to develop the most practical and warm methods of laying log cabins: the Russian bowl and paw. It is these log buildings that are most loved by the masters of our company. At the same time, under the order, we are ready to make log houses in Canadian or Norwegian log cabin.
Each of these species has its merits, which it is possible to fully disclose, only by working with logs of large diameter (from a half meter or more). It is from such a forest, harvested by us with our own hands during the winter, and we build houses, baths and commercial buildings. We offer ready-made and tested by the climate of Siberia projects of houses made of cedar for manual felling. We also create projects individually on the basis of drawings, finished project documentation and even sketches provided by the customer.
The price of a cedar from a cedar on a turn-key basis is calculated depending on such variables:
the cost of developing a residential project or adapting the finished documentation to the wishes of the customer. We appreciate every client, therefore, the creation of a project for the demolition of the houses of our assembly is free of charge;
the cost of laying the foundation. In turn, it depends on the project, the features of the landscape, the type of soil and other nuances;
cost of log house. It is made up of the cost of wood and work. The framework is assembled on our production site in Khakassia, after which it is disassembled and delivered to the installation site. Therefore, the costs of erecting the object are also added to the costs of delivery and installation;
cost of finishing and roofing materials, installation of utilities and their installation.
The differences offered by the company "Medvezhy log" logs
We work with selected large diameter wood, carefully harvested in the cold season. Own platform, modern tools and equipment, together with the experience of masters working in traditional methods of laying the log, give a consistently perfect result. We are confident in the buildings erected by our team and give each building a minimum age-old guarantee.
To buy a frame from cedar or clarify the price of such a house, contact the regional representatives of our company. For your convenience, there are offices in St. Petersburg and Moscow. Siberians are invited to assess the quality of assembly at our site in Sayanogorsk.
Buy a frame from cedar, by filling out an application through our website, by contacting the reception department by phone + 7 (902) 99-66-727 or by sending an email request This e-mail address is protected from spam bots. You need JavaScript enabled to view..