Wooden houses from larch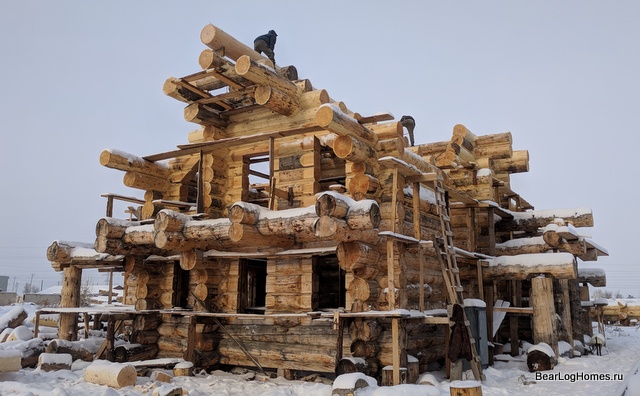 Choosing the material for the construction of a country house or the main housing, you need to take into account the specificity of each type of wood. Felling of houses from larch is popular not only in recent decades. In former times, fortresses and houses were built from it, in which it was comfortable even without insulation.
This breed of wood is strong enough and reliable, but at the same time, its processing is not easy. The main advantages include:
soft cream and red shades of wood make wooden houses from larch a good example of aesthetics;
it is absolutely environmentally friendly and safe for human material;
in the house there will always be a healthy atmosphere, and some larch will help even forget about the diseases;
is not afraid of moisture, does not lose its properties in constant contact with water or steam, atmospheric precipitation;
The wood is impregnated with resin, therefore it is sufficiently fire-resistant and does not attract pests;
log house of large diameter logs will eliminate problems with shrinkage.
A house made of larch logs at a price is a bit cheaper than cedar, but at the same time this type of tree can withstand any loads, it perfectly keeps heat inside the premises. However, the material has its drawbacks. Due to the heavy weight of the tree you will need to erect a solid foundation. For the construction of special equipment is needed, which can lead to additional costs. In order to stop the allocation of resin, the walls will have to sew lumber.
Advantages of buying a turnkey
Company Bear log takes care of the quality of wood, so that our customers can buy a house from larch, which will be a reliable and comfortable housing for decades. When ordering on a turn-key basis, our team will create an individual project or implement one of the most popular, which will be chosen by the customer. We ourselves will make a suitable foundation that can withstand all the stresses.
In the company Medvezhy log know the specifics of each type of wood and the technology of its processing. This allows you to maximize the advantages and smooth out the shortcomings of different types of wood.
You can choose any layout, number of floors or rooms. Having studied the strengths and weaknesses of this grade of wood, you will make a measured choice. And if there are questions, we will be happy to answer them. Buying a house from larch at a bargain price, you make an investment in your future!
To find out the specific cost of the house, you can fill in application form for building a house at our site.