House from Canadian cedar: price in accordance with cutting technology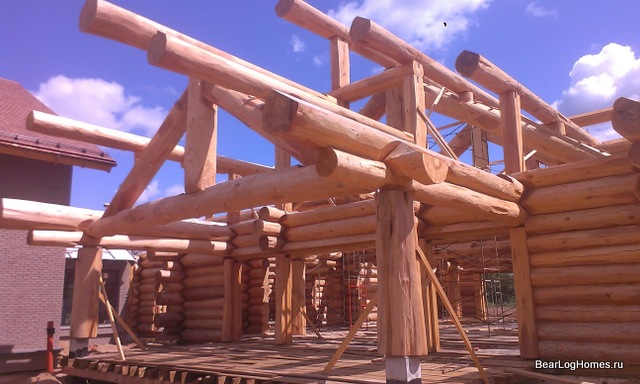 The basis of the house is a frame, which is cut at the construction site in far Canada. On the quality of the frame in this case, you can not worry and the period of operation of the house the same way. It is recommended to use not only logs from Canadian cedar, pretreated with a special protective compound, which prevents rotting, drying out, but also typical Canadian house designs.
According to the technology of cutting, several options are proposed, each of which creates a special architecture and the appearance of the house. The price of works is also connected with this. Consider the most popular options for cutting.
The Canadian bowl. In addition to the bowl, there is a circumferential band on the upper edge of the log. The upper log is jammed.
Canadian Diamond Bowl. In addition to the bowl, there is a circumferential clamp on both the upper and lower sides of the log. Also, the upper log is jammed.
Post & beam. Provides the use of load-bearing poles and cross beams, between which logs are laid. At the same time, there are no cuts and cups.
How much is a house made of red Canadian cedar?
Speaking of house price from Canadian cedar, it is necessary to mention that it differs not only according to the choice of cutting technology. The dimensions of the structure, number of floors, and internal planning are also taken into account. When ordering a house on a turnkey basis, the nature of the finishes must be specified and the materials selected, which invariably affects the price.
You can also invite the designer to create a project, layout, style of the interior. Usually, the services of a designer are in demand in elite houses from a log house. The specialist helps to decorate the interior, emphasizing the uniqueness of the wooden house.
Considerable importance is played by the purpose of the structure. For year-round living, as a rule, wood of a larger diameter is used from 40 cm, and a full cycle of insulating, waterproofing works and engineering communications are carried out. Houses for summer holidays can be given less attention when warming and use logs of smaller diameter.
We realize individual turnkey houses at a price, worthy of attention. Usually the cost of a red Canadian cedar log house can cost from 1 500 USD per one square meter of the building.
Company Bear log - good houses from cedar took part in building a house from red Canadian cedar in Moscow.