Garden parquet, decking, wooden tiles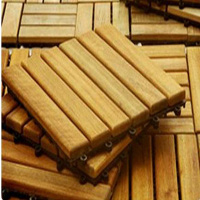 Decking, garden parquet or wooden tile is a modern finishing material made of massive wooden slats fixed on a plastic base. On the sides the base has fasteners, thanks to which the installation and removal of garden parquet tiles among themselves is done quickly enough and does not require special tools or skills.
Use of garden parquet
The use of garden parquet or wooden tile will be justified - in swimming pools, baths, patios, patios, garden paths, etc. It is used both inside rooms and for interior decoration.
For use in the exterior, we recommend larch or birch (these wood species are more resistant to external influences). And for interior decoration - pine or cedar.
The wood used for the production of garden parquet
Siberian larch, Angara pine, cedar, birch.
Dimensions of garden parquet
The standard dimensions of the plastic substrates we use 300×300, 450×450, 600×600, 600×300, 600×200, 900×200 millimeters. But we can produce any other sizes, according to your requests.
The thickness of the wooden bar: 16 mm, 18 mm, 20 mm, 26 mm, etc.
Various options for the arrangement of wooden bars in the garden parquet.
Advantages of using garden parquet
Thanks to a specially designed plastic substrate that provides natural ventilation of the wooden slats, as well as the unique properties of larch to the resistance of the environment, wooden tiles can be used in damp and slightly ventilated rooms.
Installation and dismantling of the garden parquet (wooden tiles) does not require special tools and skills. You can independently carry out all work on laying tiles.
---
As an alternative to garden parquet, you can also use spills from a log of Siberian larch. Details here ...