Houses made of cedar large diameter turnkey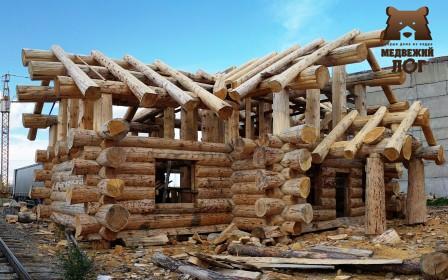 The use of log in private construction is quite promising, presentable and profitable. A house made of big cedar is not inferior in quality characteristics to classical types of buildings, and in many respects even surpasses them. This direction involves the use of exclusively high-quality, environmentally friendly and selective logs more than 50 cm in diameter. The width of the longitudinal groove in such logs is at least 20 cm.
Most logging trees reach the age of 200 or older and are shipped directly from Siberian taiga. Before the log house gets to the construction site of a house made from large cedar turnkey, it goes through several stages:
sorting and selection - only high-quality trees are selected, which are classified as first grade (elite) and second;
Drying - the entire batch or individual part is sent to a special chamber in which the material is brought to its natural moisture level;
processing - logs are covered with a special substance that protects against moisture, fungus, pests;
cutting of grooves and bowls - depending on the technology of the butt joint of the log, the grooves are cut down;
airing grooves and bowls - fresh grooves should be dried before docking, so that the protective layer is absorbed.
Unscrupulous craftsmen in building a house made of large diameter cedar often miss the last stage, as a result of which the moisture protecting agent is not absorbed into the raw wood, and the insulation has to be laid in a moist environment. This adversely affects the durability of the materials and the house itself.
Material used, construction stages, cost
Our company uses only high quality, selected and past all stages of wood. Logs are harvested in the winter, when the biological activity of the tree is reduced and it causes minimal damage.
Projects of houses made of large diameter cedar include a huge list of works:
making plans;
foundation building;
installation work on the installation of the log;
installation of the roof;
arrangement of engineering communications;
installation of window and door boxes;
Finishing work.
If necessary, specialists of our company will develop a design for your home, help you choose and make furniture placement, select finishing finishing materials. We work with ready or provided by the client projects. The price of a house made of large diameter cedar depends on the area, layout, selected materials and deadlines.
For detailed consultation fill in the application form for construction of a cedar log house.