Houses Post and Beam: a new direction in the construction market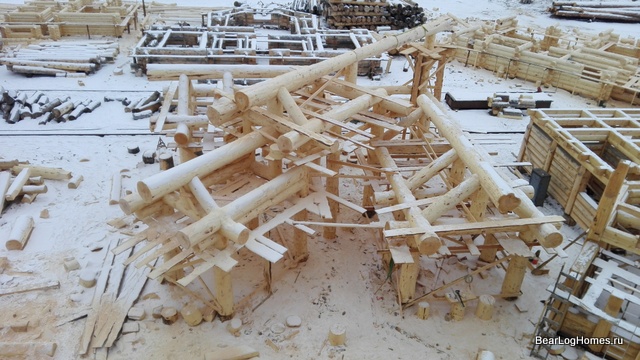 The peculiarity of the construction of the Post and Bim house in the architecture of beams and pillars, which are not hidden behind the finishing materials. In the course of interior decoration, insulation is used that fills the space between adjacent beams, and stone or wood is laid on top, cutting materials directly into the pillars. Electric cables, pipes and other important elements are also laid inside the walls.
Post and Beam houses are fairly lightweight compared to other types of buildings. They do not give a strong shrinkage, so often under them shallow foundation is performed. The exception may be only the soft soil of high humidity. Thus, the horizontal location of the logs contributes to the acceleration of construction. Depending on the size and complexity of the construction, the installation leaves 10 days, after which the house is ready for finishing.
The quality of wood plays a key role in the construction and further operation of the building. For example, in Canada, traditionally Log Homes Post & Beam are built from cedar, because it is resistant to decay, and also has an attractive shade. In Russia, the most common type of wood in the construction of the house is pine. It is an advantageous, eco-friendly material, resistant to moisture, desiccation and the appearance of pests due to the resin content.
Constructive solutions in the architecture of the house
The technology of building a house in the company Bear Log - good cedar splits is known, and is to use the internal chopped joints of beams and pillars, as well as screeds and bolts on wood. Despite the rather similar technology of building houses, their design can be significant differences, which reflects the price of the Post & Beam house.
There are three main types of structural joints of logging:
"Round bowl", in which cutting is done in the upper transverse log - from above ("Russian bowl") or below ("Siberian bowl");
"Norwegian Bowl", in which the top beam is placed in the bottom bowl, and after drying it is wedged;
"Canadian bowl", in which the technology of creating knots is similar to the previous one, but the form of cutting is trapezoid.
The simplest way to nodal junction is considered to be the "round bowl" variant, and the most reliable is the "Canadian bowl". In addition to various methods of erection, node connections have distinct architectural executions, so you can order the Post and Beam house with a unique interior. The advantage of the facilities is the wide possibilities for internal planning, which do not require load-bearing walls.
Houses type Post & Beam - a relatively new direction in the domestic construction market, but proven practice in Europe and Canada. Contact to create a unique housing!