A house with a log bath: projects, prices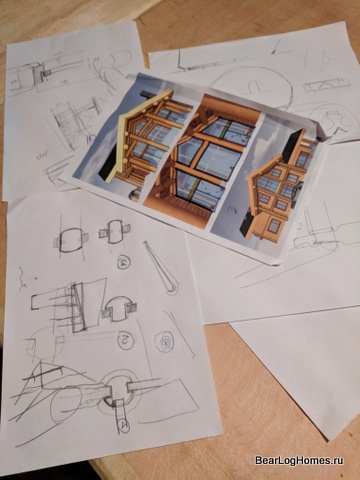 If we build a wooden house, then it is necessary to have a bath, which can be accessed without leaving the building. Firstly, it is convenient: you do not need to pop up to the frost in steamed form to return to the house. Contrary to popular belief, not everyone likes to do that, and the health benefits of a sharp change in temperature are open and controversial. Secondly, from a purely aesthetic point of view, the compact arrangement of all the buildings on the site looks more pleasant than the scattered buildings here and there. So we suggest to get acquainted with the projects and prices of houses-baths from a log.
In addition to the above advantages, the log house made of logs (the projects and prices are very diverse), made together with the house, has the following advantages:
can be integrated into the general heating system of the house (installation of a separate stove is optional);
does not occupy the excess space on the site;
is under the same roof with the house, is part of it, which allows significant savings on building materials, and thus reduces the price of the project of the house-bath.
What else are good such projects?
Separately, it should be noted environmental friendliness of such facilities (during the construction of using only natural materials). We also mention the low heat capacity of the wooden walls of the bath, which minimizes the consumption of wood for heating, and also eliminates burns when the surfaces touch open surfaces.
Building a house with a wooden bath takes little time (up to a maximum of 1 a month, depending on the complexity of the project). In most cases, you will become the owner of a new building much earlier.
In addition, it is an ideal option for those who want for the minimum money to get the most comfortable conditions of stay in the country.
Why should the Bear Log company be dealt with?
The company Bear Log has a wealth of experience in the construction of houses and saunas of chopped logs, the necessary equipment and tools. We use building materials of the highest quality.
Take over all the necessary preparatory work on the site.
We offer to consider projects and prices for logs of chopped logs, combined with the house. Since we are customer oriented, we are ready to take into account all the wishes and build a wooden structure according to your sketch or drawing. On the result of the work we give a guarantee.
Are you interested in the project of building a bath from a turnkey bar? Contact us online, by phone or in person, to discuss the terms of cooperation (terms, payment, mutual obligations) and conclude an agreement to work on your object!