Wood carvings - chainsaw from the company Bear Log
Freakish wood carvings give owners harmony, comfort and tranquility. Wooden furniture decorations from the array look luxurious, attractive, have a special value. The natural elegance gives carving a nobility, creating a unique interior or exterior of a country house.
Key advantages of exclusive works from solid wood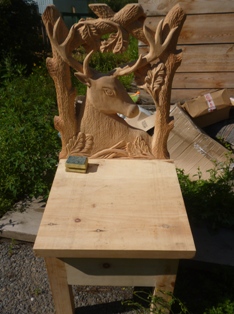 РHandmade wood products gain popularity, are considered a useful gift to new settlers, connoisseurs of rare books and original things. Wooden furniture is suitable for arranging log houses, log cabins, cedar baths. Handicrafts and accessories are unique forms, piece copies, having the advantages:
aesthetics;
nobility;
grace;
uniqueness.
Making carvings requires endurance, talent, skill, which artists and craftsmen possess. They create the actual things, decorations for the bath, the living room. The unshakable classic does not lose its relevance over time. Wooden products are valued out of time, remains fashionable and in demand.
With us, in the company Bear log you can buy
Connoisseurs of sturdy wood carvings can buy directly from manufacturers from Siberia.
Carved wooden figures will be the perfect complement to a country house, an adornment of a chopped house, a cedar bathhouse, a larch house.