Carved pillars and columns in wooden house building
Facade carved wooden pillars are a unique solution for arranging summer cottages, bathhouses and cottages built in an ecological style. Such designs can be used to design fences, terraces, porch and wooden stairs. Made by chainsaw from natural wood, they will emphasize the good taste of their owners and make the space of the house warmer and more comfortable.
Types and features of wooden pillars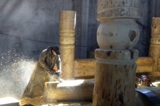 Here you can buy carved pillars and columns directly from the manufacturer. We make products according to individual design, we work with standard projects. As materials, we use only natural solid wood of cedar and larch. Poles decorated with carving chainsaws made from such wood will serve you for many years, do not rot and do not deteriorate under the influence of heat, cold and temperature drops.
The advantages of natural wood poles:
• environmental friendliness - do not contain harmful substances;
• durability - they are not afraid of water, fungus, pests;
• ideal for decorating houses and structures made of log;
• wide design possibilities - any form, ornament, drawing;
• spectacular appearance - they look beautiful, solid, expensive.
Columns and carved pillars for the porch and the stairs of natural solid wood can transform the interior of both external and internal space of the house. They can be made in the form of balustrades, covered with patina, give them any configuration and size. Our possibilities are limited only by your imagination.
The price of carved wooden pillars
The cost of manufacturing pillars, poles and columns from natural wood depends on the type of materials used, the size and complexity of the design. The price of such products is also influenced by the following factors:
• type of decorative trim;
• complexity of design and cutting;
• wood grade.
You can find out the exact cost of the projects by contacting us by phone located at the top of the site, or by sending a request online. We will make the miscalculation and after agreeing the budget we will launch the product into production.
Buy carved pillars in the company Bear log - good houses of cedar
We have our own production base and have been working with wood for many years. You can purchase carved log columns from us in any design version, with and without tinting. We guarantee all our customers:
• 100% quality;
• affordable prices;
• production efficiency.
Ordering carved wooden posts for stairs from us, you buy durable and unique decor, made with all the requirements and wishes of the customer.